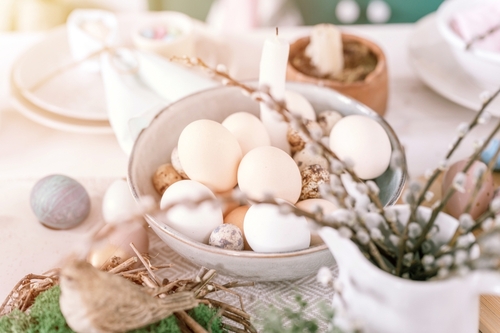 As parents, one of the joys of raising children is creating lasting memories through the celebration of special occasions and holidays. These moments not only strengthen family bonds but also provide an opportunity for children to learn about different cultures and traditions. In this blog post, we'll explore creative and meaningful ways to celebrate various holidays and special occasions with children, incorporating fun activities, crafts, and delicious recipes that the whole family can enjoy together.
Easter Extravaganza
Easter is a time for joy and renewal, and there are numerous ways to make this holiday special for your little ones. Start the day with an exciting Easter egg hunt in the backyard, hiding colorful eggs filled with small treats or messages. Engage the kids in decorating their own Easter baskets beforehand, sparking their creativity. To add a personal touch, consider organizing a family crafting session to create unique Easter decorations, such as hand-painted eggs or DIY bunny ears. End the day with a delicious family dinner featuring classic Easter recipes, like honey-glazed ham and carrot cake.
Fourth of July Fun
Independence Day is synonymous with fireworks, barbecues, and patriotic celebrations. For a family-friendly Fourth of July, plan a day filled with outdoor activities. Organize a bike parade in your neighborhood, encouraging children to decorate their bicycles with red, white, and blue streamers. Engage in DIY crafts like making patriotic t-shirts or designing personalized flags. Cap off the day by watching the local fireworks display together or creating your own with sparklers in the backyard. Don't forget to prepare a picnic with all-American favorites like hot dogs, burgers, and apple pie.
Halloween Haunt
Halloween provides the perfect opportunity for creativity and imagination to run wild. Begin the festivities by involving the kids in carving pumpkins and designing spooky decorations for the house. Consider organizing a neighborhood costume parade where children can showcase their creative outfits. To add an educational element, delve into Halloween-themed science experiments, like creating "witches' brew" with simple household ingredients. Cap off the evening with a family movie night featuring classic Halloween films and a spread of homemade treats like caramel apples and pumpkin cookies.
Thanksgiving Traditions
Thanksgiving is a time for gratitude and reflection, making it an ideal occasion to involve children in meaningful activities. Kick off the day with a family gratitude circle, where everyone expresses what they're thankful for. Engage in craft activities such as creating a gratitude tree or crafting personalized place cards for the Thanksgiving table. Encourage the little ones to contribute to the meal preparation by helping with simple tasks like washing vegetables or stirring ingredients. For dessert, consider a family baking session to create a delicious pumpkin pie or apple crisp.
Christmas Cheer
The holiday season is synonymous with joy and giving, making it a magical time for children. Start the festivities by decorating the house together, letting the little ones hang ornaments and string lights. Create a Christmas countdown calendar to build excitement throughout December. Engage in a family tradition of baking and decorating gingerbread cookies, allowing each child to showcase their artistic flair. Consider organizing a family movie night with classic holiday films and hot cocoa. Conclude the celebrations with a visit to a local holiday light display or a cozy evening by the fireplace with stories and games.
Birthday Bonanza
While not a national holiday, a child's birthday is undoubtedly a special occasion that deserves a celebration of its own. Begin the day with a surprise birthday breakfast or decorate their room with balloons and streamers. Plan age-appropriate activities, such as a backyard treasure hunt or a themed scavenger hunt. Involve the birthday child in choosing their favorite meal for the day, whether it's a homemade pizza party or a picnic in the park. Conclude the celebration with a homemade birthday cake, perhaps with the child's help in decorating, making it a truly memorable day.
Summary
Celebrating special occasions and holidays with children is an opportunity to create cherished family memories. Whether it's the thrill of an Easter egg hunt, the creativity of Halloween crafts, or the warmth of a Thanksgiving gratitude circle, these moments contribute to the fabric of family life. By incorporating fun activities, crafts, and recipes, families can make these celebrations not only enjoyable but also meaningful and educational for their children. So, let the festivities begin, and may your family create a treasure trove of beautiful memories together.
Need a Child Educational Center in Greenwood, IN?
If you're looking for additional art activities or professional guidance in incorporating art into your children's lives, consider reaching out to us here at Kids Kingdom Early Learning Center. We provide a wide range of resources, ideas, and workshops to inspire and support creative expression in children. Let us help you create unforgettable artistic experiences! Contact us today to learn more!